BEACH FRONT BETWEEN CABO AND TODOS SANTOS
MLS #15-2122
Split by Hwy 19, New 4 Lane Expansion Near Complete!
Over fifty acres of pristine coastal property boasting over a 1/4 mile of sandy beach with an approved Federal Beach Concession, a high output water well and two-sided highway frontage. The property features a towering rock promontory with uninterrupted coastal views to the north and south.

Split by Hwy 19, this parcel has exceptional visibility that has recently increased with the widening of the highway from 2 to 4 lanes in 2013. Ripe for development, it has the potential to include an oceanview restaurant and bar, beach club and a mix of single family residences and condominiums or a hotel project.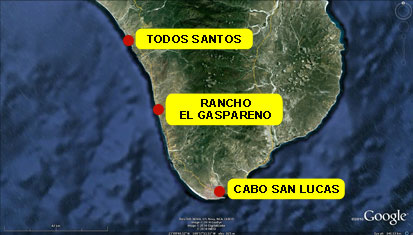 ABOVE:
Rancho el Gaspareno's location places it mid-way between Cabo San Lucas and Todos Santos on Hwy 19.

BELOW: An aerial image showing the boundaries of Rancho Gaspareno. Click here or on the image for a larger version.



IN THE PATH OF GROWTH AND ATTENTION


While Cabo San Lucas may have put the tip of the Baja Peninsula on the map, there are those that feel what used to be a sleepy little Mexican town has become a tourist mecca, losing some of it's traditional south of the border charm. However, the Pacific side of the peninsula still retains the old Mexico feel, and that in itself has driven remarkable growth and activity north from Cabo towards Todos Santos. Tourism in the area has steadily increased, and with it, so has the need for homes, condos, hotels and restaurants. We see this Pacific corridor becoming the focal point of new development here in Los Cabos – just one of many reasons why we find Rancho el Gaspareno to be such an attractive property.



PROPERTY FEATURES


Truly desirable features are part of the package. First and foremost is the abundant water supply by way of a high output water well with the capacity to handle just about any type of development. The water well comes with CNA (National Water Commission) concession. With the widening of Hwy 19 from 2 to 4 lanes, electricity and phone lines will be making their way to the property soon.

A federal maritime concession allowing for the use of the beach is also in place, meaning the developer of the property has legal right to utilize the beach as part of the overall project. Beach concessions come with a monthly fee but are historically low in cost and the benefit to any development far outweighs the nominal expense. With the beach concession, a beach club is a an attractive option with the potential for watercraft rental, kayaking, snorkeling and other water sports services offered on-site.

At the center of the property is a small caretakers residence. The current owner has also planted approximately 1,000 coconut palm trees on the property creating an onsite nursery with trees ready to transplant and landscape the development.

LISTED PRICE:


$11.680,000 USD, all reasonable offers considered.


For more information on this prime oceanfront development land, email Don Weis. Alternatively, you may call our offices using our many options for local or international calling.